How You Can Help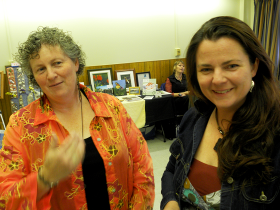 GET THE WORD OUT
Like many non-profits, energy and effort is directed towards developing and providing programs and services leaving less time to promotion. In many cases, women's centres are places that people don't know of until they need support or inspiration.
Getting the word out about what we do and the programs we offer, helps tremendously in spreading the good work and effort of staff and volunteers involved here and ensures that the women in the community know where to look for empowering support.
VOLUNTEER
Contact the centre to find out what volunteer possibilities are needed and available.

DONATE
The Frances Mills-Clements Bursary has a grass-roots foundation and was developed to support women in our communities to reach their personal goals through post-secondary education. The Bursary is supported through the Women's Place Resource Centre and is open to all women. The 2010 bursary was the first year to have two recipients, one within our local communities and a group in Jamaica.