Welcome to Womens' Place Resource Centre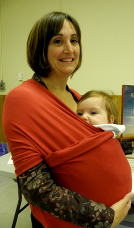 Welcome to the Women's Place Resource Centre based in Middleton, Nova Scotia.


Our mission is dedicated to the well-being and economic status of women in the Kings and Annapolis Counties.


We work with communities to achieve this mission through a variety of Services as well as creating a safe place for women to gather, share, grow, and be. By supporting women, we recognize that we, in turn, nurture the growth of children, families, and the entire communities that we serve.


Our events are a celebration of women's expression, knowledge, and experiences and provide an opportunity to gather and raise awareness of the Women's Place Resource Centre and the Frances Mills-Clements Bursary.


Annually, on average, the Women's Place Resource Centre provides support to over 1,300 people over the phone, in-person, and through programs and initiatives.
Quote of the Day
"Of all the nasty outcomes predicted for women's liberation … none was more alarming than the suggestion that women would eventually become just like men."

Barbara Ehrenreich